It is time to veg out. Vegetable out, that is.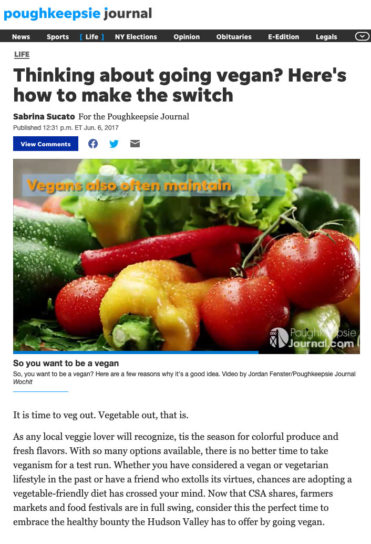 As any local veggie lover will recognize, tis the season for colorful produce and fresh flavors. With so many options available, there is no better time to take veganism for a test run. Whether you have considered a vegan or vegetarian lifestyle in the past or have a friend who extolls its virtues, chances are adopting a vegetable-friendly diet has crossed your mind. Now that CSA shares, farmers markets and food festivals are in full swing, consider this the perfect time to embrace the healthy bounty the Hudson Valley has to offer by going vegan.
"Today, recipes for delicious vegan food abound, fresh produce is widely available, and more and more restaurants offer vegan choices," said Roberta Schiff, director of Hudson Valley Vegans, a community group for local plant-loving eaters.
Schiff, a vegan since 1993, educates about the merits of veganism at conferences and through the group's website in addition to organizing regular foodie events for members. She highlights environmental impact as one of the chief reasons to consider a change in eating habits.
"Animal agriculture causes vast depletion of natural resources and contributes to world hunger," she explained.
According to GRACE Communications Foundation, a New York City-based organization that aims to raise awareness about the environmental and public health issues rooted within the nation's food production industry, a pound of beef takes approximately 1,800 gallons of water to produce. In comparison, a pound of tofu requires about 300 gallons.
Of course, concern for the environment is not the only reason to consider adopting a plant-based menu. Personal health can also play a big role in the decision.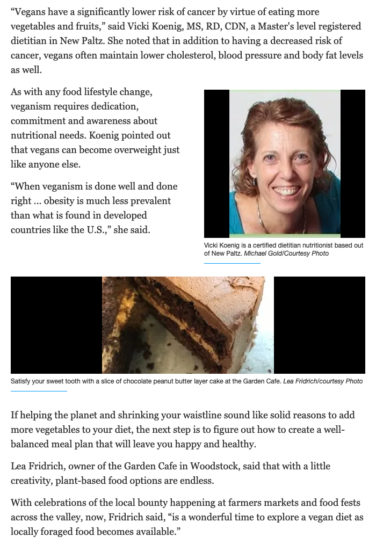 "Vegans have a significantly lower risk of cancer by virtue of eating more vegetables and fruits," said Vicki Koenig, MS, RD, CDN, a Master's level registered dietitian in New Paltz. She noted that in addition to having a decreased risk of cancer, vegans often maintain lower cholesterol, blood pressure and body fat levels as well.
Vicki Koenig is a certified dietitian nutritionist based out of New Paltz.
As with any food lifestyle change, veganism requires dedication, commitment and awareness about nutritional needs. Koenig pointed out that vegans can become overweight just like anyone else.
"When veganism is done well and done right … obesity is much less prevalent than what is found in developed countries like the U.S.," she said.
If helping the planet and shrinking your waistline sound like solid reasons to add more vegetables to your diet, the next step is to figure out how to create a well-balanced meal plan that will leave you happy and healthy.
Lea Fridrich, owner of the Garden Cafe in Woodstock, said that with a little creativity, plant-based food options are endless.
With celebrations of the local bounty happening at farmers markets and food fests across the valley, now, Fridrich said, "is a wonderful time to explore a vegan diet as locally foraged food becomes available."
Fridrich, who adopted veganism out of a love for animals and concern for their safety, offers a variety of mouthwatering plates at the Garden Cafe, such as a housemade cashew cheese brie plate, a no-noodle lasagna and a shepherd's pie, all made from scratch.
When "the 'meat' substitutes are believable and cheeses are creamy," Fridrich said, transitioning to veganism seems less like a challenge and more like a culinary adventure.
Lagusta Yearwood, owner of Lagusta's Luscious in New Paltz, said summer is an ideal time to embark upon said adventure.
"I think for many of our vegan-leaning customers, it's easier to eat less meat in the summertime because there's such great local produce around, and you can prepare pretty simple meals because the produce is so wonderful, which can be a great transition into a vegan diet," she said.
While Yearwood may not be whipping up salads at Lagusta's, which specializes in vegan chocolates and confections, she does explore the savory side of vegan eats at Commissary!, Lagusta's sister cafe in New Paltz. With menu items such as a mac and cheese casserole, or a cheese and pickle plate for lunch, and handcrafted vegan chocolates for dessert, Yearwood knows how to do vegan eats for all palates.
Indeed, finding sweet and savory options that are more than a weak imitation of non-vegan dishes is an essential, yet somewhat challenging undertaking for plant-based munchers. Luckily, many vegan-conscious locales, such as Red Hook's The Enchanted Cafe, offer a bit of both.
"I strive to make sure that vegan options are available at all times, from sandwiches, salads, but also in terms of delicious treats," said Joe Moscato, general manager at The Enchanted Cafe. In addition to brewing coffees and lattes throughout the day, the cafe's staff also serve vegan cupcakes and brownies which, Moscato said, are enjoyed by everyone.
With bites that are just as tasty as they are vegan-friendly, plant-based eaters can enjoy the flavors they love and still maintain the dietary standards they value.
How about a vegan cupcake to celebrate?
Vegan resources and hotspots
Lagusta's Luscious and Commissary!, New Paltz: http://www.lagustasluscious.com/shop/
Karma Road, New Paltz: https://www.karmaroad.net/
Garden Cafe, Woodstock: http://thegardencafewoodstock.com/
Roberta Schiff, Hudson Valley Vegans: http://www.hvvegans.org/
The Enchanted Cafe, Red Hook: http://www.theenchantedcaferedhook.com/
Vicki Koenig, MS, RD, CDN, New Paltz: https://www.nutrition-wise.com/